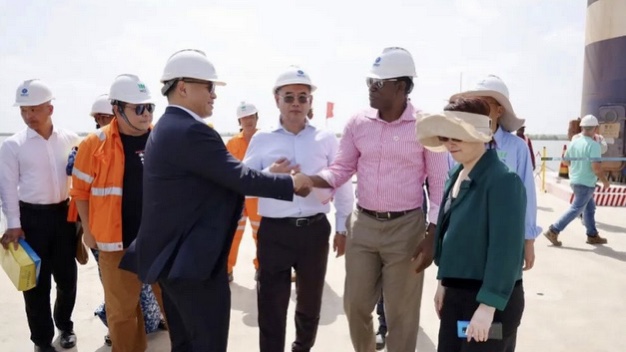 Bo Zhang at the resumption ceremony of the Simandou project
Düsseldorf, 13.04.2023
In March, Bo Zhang, CEO of Weiqiao Pioneering Group, visited Guinea and attended the resumption ceremony of the Simandou project at the port of Maribaya. 
Located in Kairouane Province in southeastern Guinea, the Simandou iron ore mine has an average iron ore grade of 65.5%. At full production, the Simandou project could export about 120 million tons of iron ore per year. 
Together with the Winning Consortium Simandou (WCS), Bo Zhang visited the mine, the railroad company and the bauxite mining area. During his stay, Bo Zhang also visited FeiTsui-Renhe Hospital. The hospital is a state-of-the-art medical centre built by WCS with an investment of more than 10 million USD. Equipped with the latest medical equipment from China, it brings together highly qualified medical teams from China and Guinea and is open to the local population to improve medical standards for the benefit of the Guinean people. 
About WEIQIAO Germany GmbH:
WEIQIAO Germany GmbH is a European subsidiary and European headquarters of the Chinese Shandong Weiqiao Pioneering Group. The group includes three listed companies, two of which are listed in Hong Kong, 12 domestic and overseas production sites and over 100,000 employees worldwide. The group covers the complete value chain of the textile and aluminum industry.