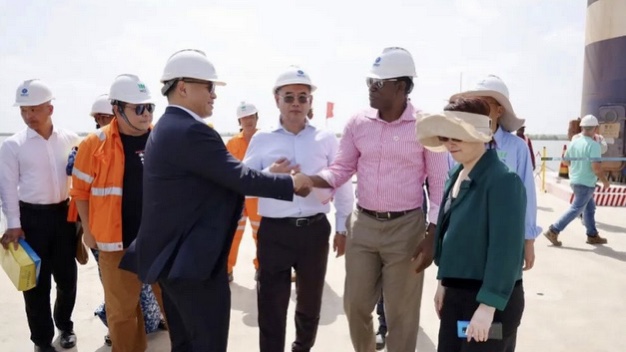 Bo Zhang at the resump­tion cere­mony of the Simandou project
Düs­sel­dorf, 13.04.2023
In March, Bo Zhang, CEO of Weiqiao Pion­eer­ing Group, vis­ited Guinea and atten­ded the resump­tion cere­mony of the Simandou pro­ject at the port of Maribaya.
Loc­ated in Kair­ou­ane Province in south­east­ern Guinea, the Simandou iron ore mine has an aver­age iron ore grade of 65.5%. At full pro­duc­tion, the Simandou pro­ject could export about 120 mil­lion tons of iron ore per year.
Togeth­er with the Win­ning Con­sor­ti­um Simandou (WCS), Bo Zhang vis­ited the mine, the rail­road com­pany and the baux­ite min­ing area. Dur­ing his stay, Bo Zhang also vis­ited FeiT­sui-Renhe Hos­pit­al. The hos­pit­al is a state-of-the-art med­ic­al centre built by WCS with an invest­ment of more than 10 mil­lion USD. Equipped with the latest med­ic­al equip­ment from China, it brings togeth­er highly qual­i­fied med­ic­al teams from China and Guinea and is open to the loc­al pop­u­la­tion to improve med­ic­al stand­ards for the bene­fit of the Guinean people.
About WEIQIAO Germany GmbH:
WEIQIAO Germany GmbH is a European sub­si­di­ary and European headquar­ters of the Chinese Shan­dong Weiqiao Pion­eer­ing Group. The group includes three lis­ted com­pan­ies, two of which are lis­ted in Hong Kong, 12 domest­ic and over­seas pro­duc­tion sites and over 100,000 employ­ees world­wide. The group cov­ers the com­plete value chain of the tex­tile and alu­min­um industry.