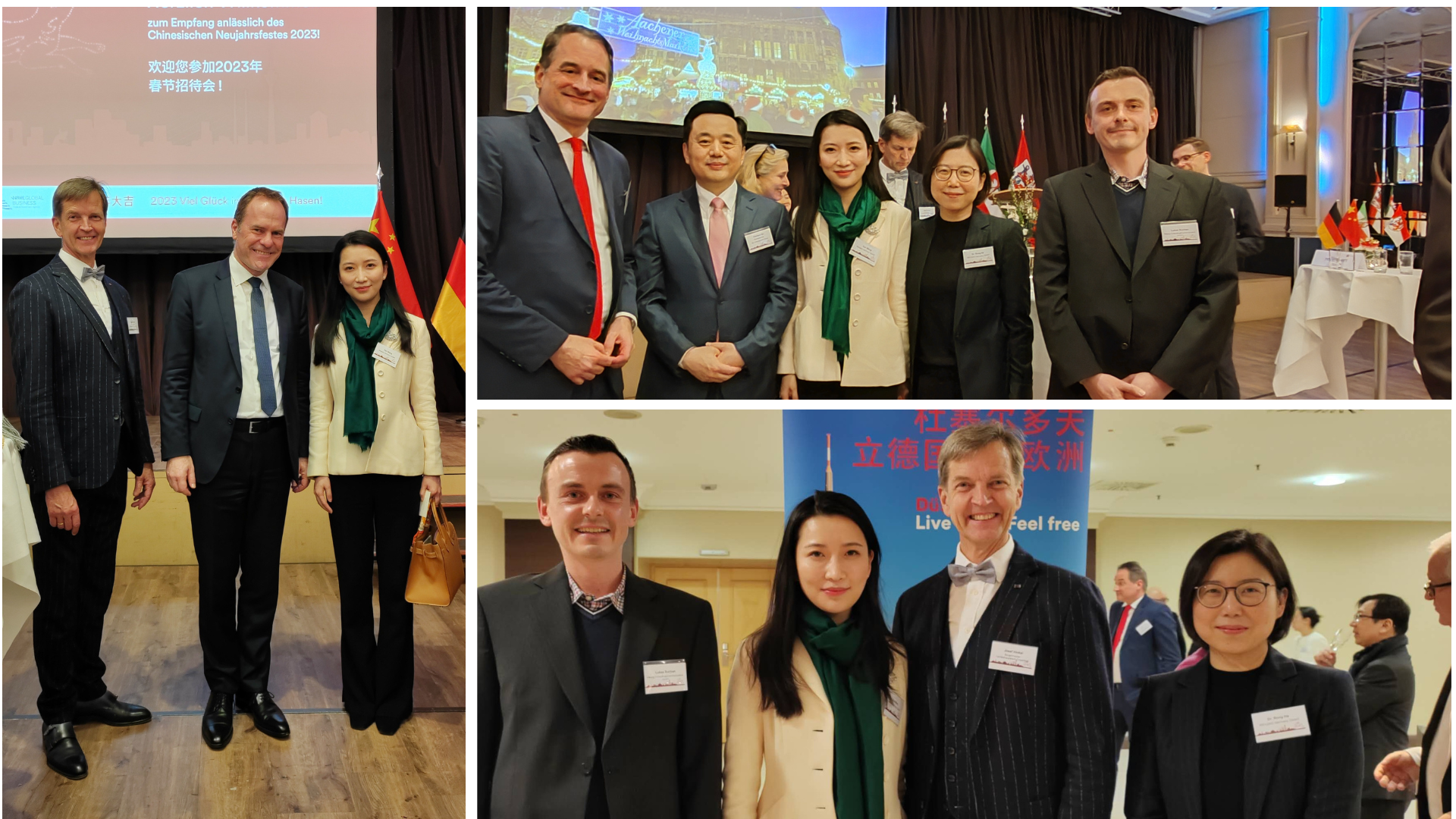 Chinese New Year's recep­tion for the Chinese eco­nomy in Düsseldorf
Düs­sel­dorf, 15.02.2022
On Tues­day, Feb­ru­ary 14th 2023, WEIQIAO was hon­oured to be invited to the tra­di­tion­al recep­tion of the state cap­it­al of NRW Düs­sel­dorf and NRW.Global Busi­ness. Gen­er­al Man­ager Dr. Yan Wang and Deputy Gen­er­al Man­ager Dr. Rong He atten­ded the event.
The may­or of Düs­sel­dorf Dr. Stephan Keller, Dr. Tobi­as Traupel from the State Min­istry of Eco­nomy, Industry, Cli­mate Pro­tec­tion and Energy, and the Con­sul Gen­er­al of China in Düs­sel­dorf, Mr. Chun­guo Du, wel­comed the guests with their speeches. All of them emphas­ized the import­ance of bilat­er­al cooper­a­tion in the field of renew­able energy and green tech­no­lo­gies. There is great poten­tial to jointly find solu­tions to the chal­lenges related to green devel­op­ment and cli­mate pro­tec­tion.
These are also focus top­ics of the Weiqiao Pion­eer­ing Group, which is driv­ing devel­op­ment in this area with an ambi­tious sus­tain­ab­il­ity concept.
About WEIQIAO Germany GmbH:
WEIQIAO Germany GmbH is a European sub­si­di­ary and European headquar­ters of the Chinese Shan­dong Weiqiao Pion­eer­ing Group. The group includes three lis­ted com­pan­ies, two of which are lis­ted in Hong Kong, 12 domest­ic and over­seas pro­duc­tion sites and over 100,000 employ­ees world­wide. The group cov­ers the com­plete value chain of the tex­tile and alu­min­um industry.