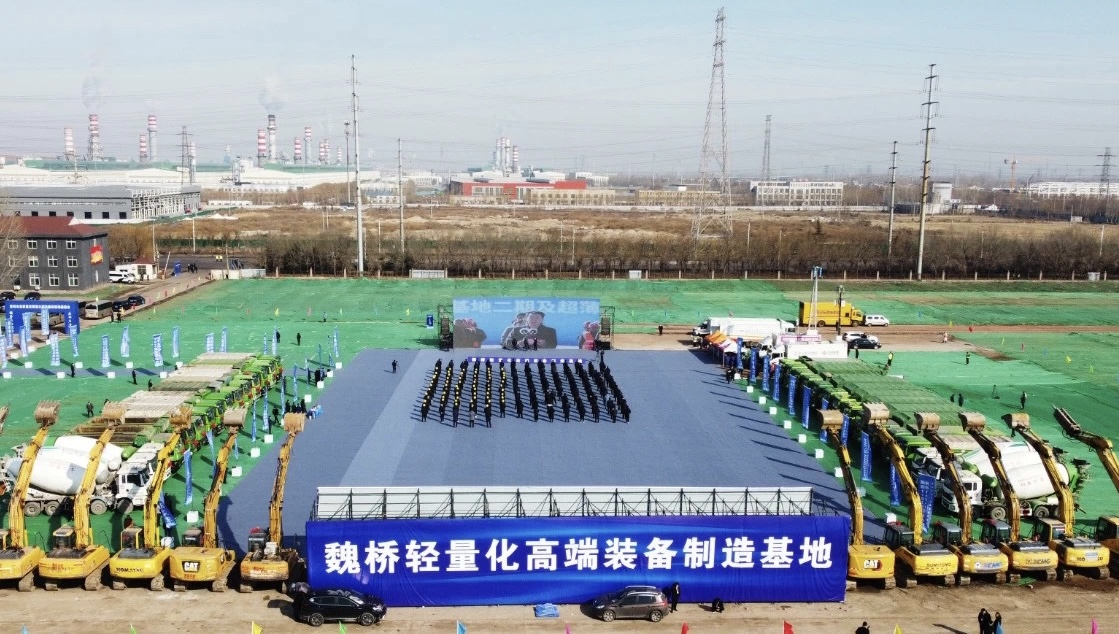 Con­struc­tion of the new Weiqiao pro­duc­tion base for high-end light­weight equip­ment begins
Düs­sel­dorf, 23.02.2022
At the Chinese Entre­pren­eur­i­al Vis­ion Imple­ment­a­tion Con­fer­ence, Weiqiao's CEO Bo Zhang intro­duced the group's vis­ion to build a 100-bil­lion-yuan industry cluster focus­ing on altern­at­ive fuel vehicles.
In the new year, Weiqiao Pion­eer­ing Group con­tin­ues to push for­ward the devel­op­ment of renew­able energy and the estab­lish­ment of an industry cluster. In the Zoup­ing Eco­nom­ic and Devel­op­ment Zone, loc­ated in the admin­is­trat­ive area of the county-level city of Bin­zhou, Weiqiao has com­bined its own resources with those of com­pan­ies in China's auto­mot­ive industry to build a pro­duc­tion base for high-end light­weight equip­ment. With a total invest­ment of 10.5 bil­lion yuan and using Weiqiao's self-developed light­weight alu­min­um alloys, the base fol­lows the innov­at­ive "Equip­ment Man­u­fac­tur­ing + New Mater­i­als" devel­op­ment mod­el. The Weiqiao high-end light­weight equip­ment pro­duc­tion base will become a part of the exist­ing Weiqao Light­weight Base and the new light­weight industry cluster in China's Shan­dong Province.
Auto­mot­ive cluster in Shan­dong province, Bin­zhou city
The auto­mot­ive industry cluster, which focuses on the pro­duc­tion of recycled alu­min­um bod­ies, bat­ter­ies, elec­tric motors, elec­tric con­trol sys­tems and oth­er core vehicle com­pon­ents, has been gradu­ally estab­lished by Weiqiao through­out the city of Bin­zhou. It includes the New Energy Com­mer­cial Vehicle Base in Zoup­ing Eco­nom­ic Devel­op­ment Zone, the New Energy Pas­sen­ger Vehicle Base in Bin­zhou Eco­nom­ic Devel­op­ment Zone, the All-Alu­min­um Trail­er Base in Bincheng County and the Die Cast­ing Pro­ject in Huim­in County, as well as oth­er bases in oth­er counties and urb­an areas.
Advan­cing eco­lo­gic­al man­age­ment
Weiqiao will fur­ther optim­ize the Group's indus­tri­al and product struc­ture to pro­mote the region­al eco­lo­gic­al eco­nomy and pro­mote the trans­form­a­tion of Weiqiao Pion­eer­ing Group from a tra­di­tion­al mater­i­als man­u­fac­turer to a high-end intel­li­gent equip­ment man­u­fac­turer.
About WEIQIAO Germany GmbH:
WEIQIAO Germany GmbH is a European sub­si­di­ary and European headquar­ters of the Chinese Shan­dong Weiqiao Pion­eer­ing Group. The group includes three lis­ted com­pan­ies, two of which are lis­ted in Hong Kong, 12 domest­ic and over­seas pro­duc­tion sites and over 100,000 employ­ees world­wide. The group cov­ers the com­plete value chain of the tex­tile and alu­min­um industry.