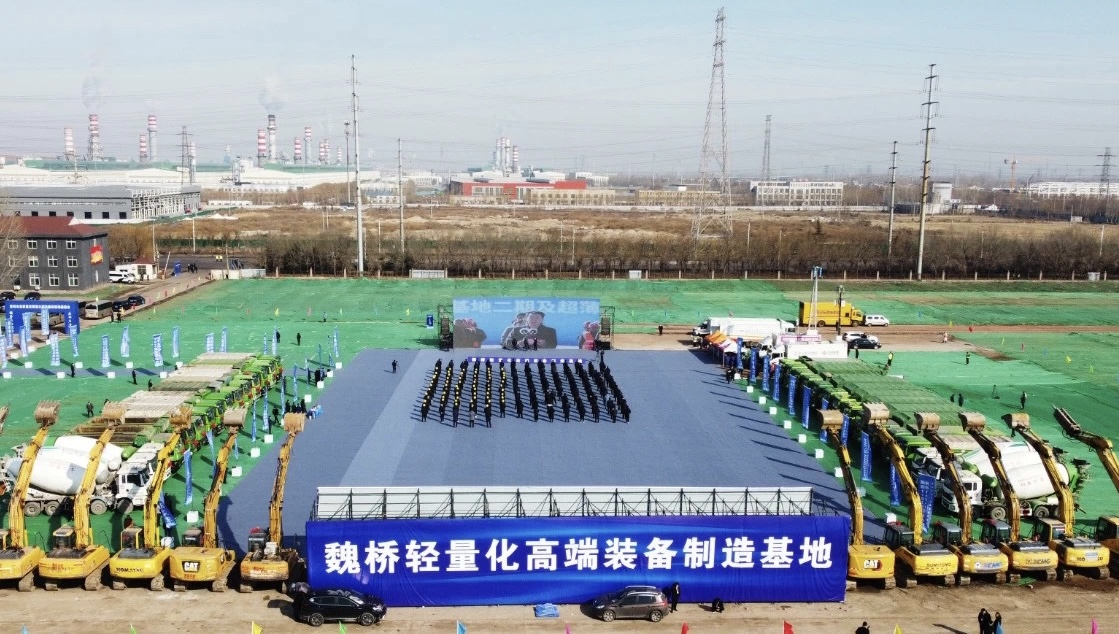 New Weiqiao production base for high-end lightweight equipment
Düsseldorf, 23.02.2022
At the Chinese Entrepreneurial Vision Implementation Conference, Weiqiao's CEO Bo Zhang introduced the group's vision to build a 100-billion-yuan industry cluster focusing on alternative fuel vehicles. 
In the new year, Weiqiao Pioneering Group continues to push forward the development of renewable energy and the establishment of an industry cluster. In the Zouping Economic and Development Zone, located in the administrative area of the county-level city of Binzhou, Weiqiao has combined its own resources with those of companies in China's automotive industry to build a production base for high-end lightweight equipment. With a total investment of 10.5 billion yuan and using Weiqiao's self-developed lightweight aluminum alloys, the base follows the innovative "Equipment Manufacturing + New Materials" development model. The Weiqiao high-end lightweight equipment production base will become a part of the existing Weiqao Lightweight Base and the new lightweight industry cluster in China's Shandong Province. 
Automotive cluster in Shandong province, Binzhou city 
The automotive industry cluster, which focuses on the production of recycled aluminum bodies, batteries, electric motors, electric control systems and other core vehicle components, has been gradually established by Weiqiao throughout the city of Binzhou. It includes the New Energy Commercial Vehicle Base in Zouping Economic Development Zone, the New Energy Passenger Vehicle Base in Binzhou Economic Development Zone, the All-Aluminum Trailer Base in Bincheng County and the Die Casting Project in Huimin County, as well as other bases in other counties and urban areas. 
Advancing ecological management 
Weiqiao will further optimize the Group's industrial and product structure to promote the regional ecological economy and promote the transformation of Weiqiao Pioneering Group from a traditional materials manufacturer to a high-end intelligent equipment manufacturer. 
About WEIQIAO Germany GmbH:
WEIQIAO Germany GmbH is a European subsidiary and European headquarters of the Chinese Shandong Weiqiao Pioneering Group. The group includes three listed companies, two of which are listed in Hong Kong, 12 domestic and overseas production sites and over 100,000 employees worldwide. The group covers the complete value chain of the textile and aluminum industry.