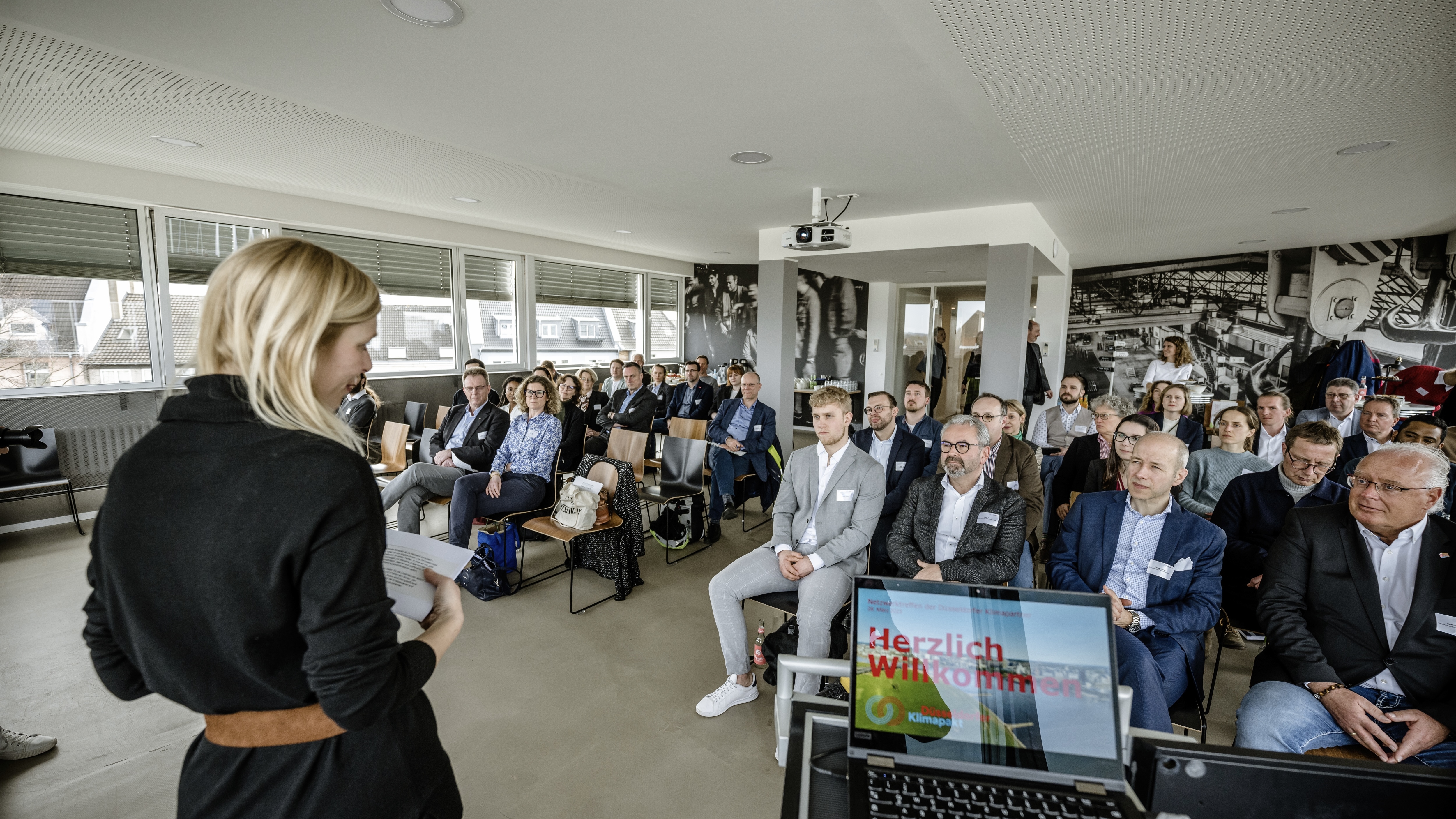 Weiqiao at the 2nd net­work meet­ing of the Düs­sel­dorf Cli­mate Pact
Düs­sel­dorf, 04.04.2023
As a cli­mate part­ner of the city of Düs­sel­dorf, WEIQIAO par­ti­cip­ated in the 2nd net­work meet­ing of the Düs­sel­dorf Cli­mate Pact at the Fact­ory Cam­pus. The event focused on the top­ics of energy effi­ciency and cli­mate-friendly energy sup­ply, on which vari­ous experts presen­ted spe­cial­ized lec­tures.
The top­ics included cli­mate-friendly dis­trict heat­ing, the use of large-scale heat pumps in industry, the oper­a­tion of photo­vol­ta­ic sys­tems on com­mer­cial roofs, and exist­ing fund­ing oppor­tun­it­ies. But also con­crete examples of how to achieve energy effi­ciency through build­ing renov­a­tion and optim­iz­a­tion of plant tech­no­logy.
Best prac­tice pitches fol­lowed in the joint plen­ary ses­sion, in which innov­at­ive com­pan­ies from Düs­sel­dorf presen­ted their solu­tions for sus­tain­able busi­ness and energy effi­ciency.
WEIQIAO Germany GmbH is pleased to be part of this ini­ti­at­ive, which has now been joined by 45 com­pan­ies from a wide range of indus­tries and sizes. In this way, we are mak­ing a con­tri­bu­tion to com­bat­ing cli­mate change and look for­ward to con­tinu­ing to help shape a more sus­tain­able future.
Inform­a­tion about the cli­mate pact is avail­able here klimapakt-duesseldorf.de
About WEIQIAO Germany GmbH:
WEIQIAO Germany GmbH is a European sub­si­di­ary and European headquar­ters of the Chinese Shan­dong Weiqiao Pion­eer­ing Group. The group includes three lis­ted com­pan­ies, two of which are lis­ted in Hong Kong, 12 domest­ic and over­seas pro­duc­tion sites and over 100,000 employ­ees world­wide. The group cov­ers the com­plete value chain of the tex­tile and alu­min­um industry.