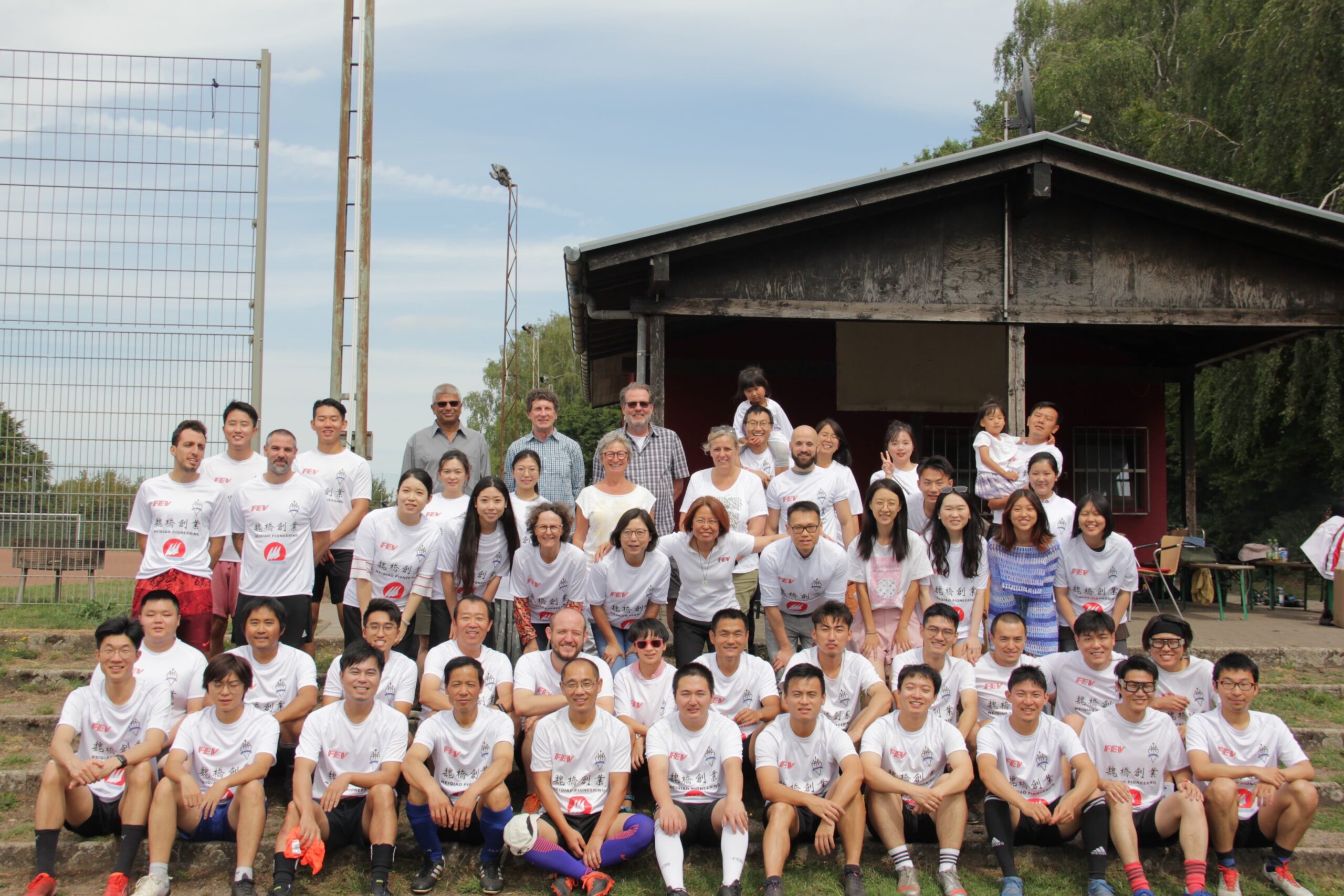 WEIQIAO Germany GmbH spon­sors Aachen Foot­ball Team FV Aachina
Düs­sel­dorf, 03.08.2022
On July 30, the spon­sor­ing cere­mony for the sup­port of the foot­ball team FV Aach­ina by WEIQIAO Germany GmbH took place on the sports field of the Aachen­er Sportver­ein Schwarz-Rot 06 e. V..
Present were the board of dir­ect­ors of the sports club with the chair­wo­man Lies­el Cords, Dr. He Rong, deputy-gen­er­al man­ager of WEIQIAO Germany GmbH with her Düs­sel­dorf team as well as the entire foot­ball team of FV Aach­ina with their cap­tain Xu Guangyao.
As one of the 500 largest com­pan­ies in the world, Weiqiao Pion­eer­ing Group, to which the Düs­sel­dorf com­pany belongs, not only focuses on core busi­ness and its devel­op­ment, but also act­ively ful­fills its social respons­ib­il­ity as a large com­pany. In this regard, par­ti­cip­a­tion in the devel­op­ment of sports, inter­na­tion­al sports events and spon­sor­ship of sports teams are long-stand­ing cor­por­ate cul­ture and tra­di­tion. WEIQIAO Germany GmbH, as the European headquar­ters of the Weiqiao Group, con­tin­ues this cor­por­ate cul­ture and tra­di­tion out­side of China.
The Aach­ina foot­ball team has become one of the largest and best Chinese foot­ball teams in North Rhine-West­phalia. On a com­pet­it­ive level, the team rep­res­ents the highest level of Chinese foot­ball teams in North Rhine-West­phalia and act­ively par­ti­cip­ates in the Bunte Liga, which strongly pro­motes friendly com­mu­nic­a­tion between Germany and China.
Also, in view of the upcom­ing 50th anniversary of the estab­lish­ment of dip­lo­mat­ic rela­tions between China and Germany, WEIQIAO hopes that with this spon­sor­ship, sports as a bridge and foot­ball as a medi­um, the exchange and friend­ship between China and Germany will be fur­ther strengthened.
About WEIQIAO Germany GmbH:
WEIQIAO Germany GmbH is a European sub­si­di­ary and European headquar­ters of the Chinese Shan­dong Weiqiao Pion­eer­ing Group. The group includes three lis­ted com­pan­ies, two of which are lis­ted in Hong Kong, 12 domest­ic and over­seas pro­duc­tion sites and over 100,000 employ­ees world­wide. The group cov­ers the com­plete value chain of the tex­tile and alu­min­um industry.