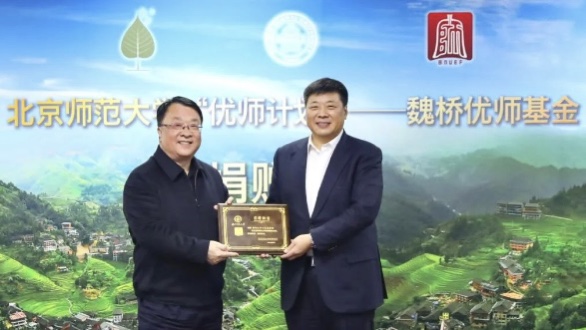 Weiqiao is committed to educational project
Düsseldorf, 24.03.2023
Support in the field of education is an important part of the Weiqiao Pioneering Group's commitment in China. With the "Weiqiao Fund Project for Excellent Teachers", it supports a project at the Beijing Normal University together with the Shiping Public Welfare Foundation, which it founded.
On March 14, the donation ceremony for the "Weiqiao Fund Project for Excellent Teachers" took place at Beijing Normal University. Attendees included Chuntian Li, Deputy Mayor of Binzhou City, Bo Zhang, CEO of Weiqiao Pioneering Group and Co-Chairman of Shiping Public Welfare Foundation, and Yong Deng, Co-Chairman of the Shiping Public Welfare Foundation, as well as Jianping Cheng, Chairman of the University Council of Beijing Normal University, among others.
During the ceremony, Jianping Cheng expressed his sincere gratitude to the Shiping Foundation for their generous donation. He introduced the university's "Excellent Teachers Project" (officially named the: "Orientation and Training Program for Excellent Teachers in Less Developed Areas in Central and Western China") and its goals of addressing the challenges of education development in rural areas and promoting the construction of a high-quality education system. The establishment of the "Weiqiao Fund Project for Excellent Teachers" will contribute to the achievement of these goals.
In his speech, Bo Zhang expressed the importance of education development and mentioned in this context the aim of the Shiping Foundation: "Entrepreneurship for the country and benefit for the people". Weiqiao and the Shiping Foundation will jointly assume social responsibility and fully support scientific education to cultivate outstanding talents, with a special focus on rural areas.
About WEIQIAO Germany GmbH:
WEIQIAO Germany GmbH is a European subsidiary and European headquarters of the Chinese Shandong Weiqiao Pioneering Group. The group includes three listed companies, two of which are listed in Hong Kong, 12 domestic and overseas production sites and over 100,000 employees worldwide. The group covers the complete value chain of the textile and aluminum industry.