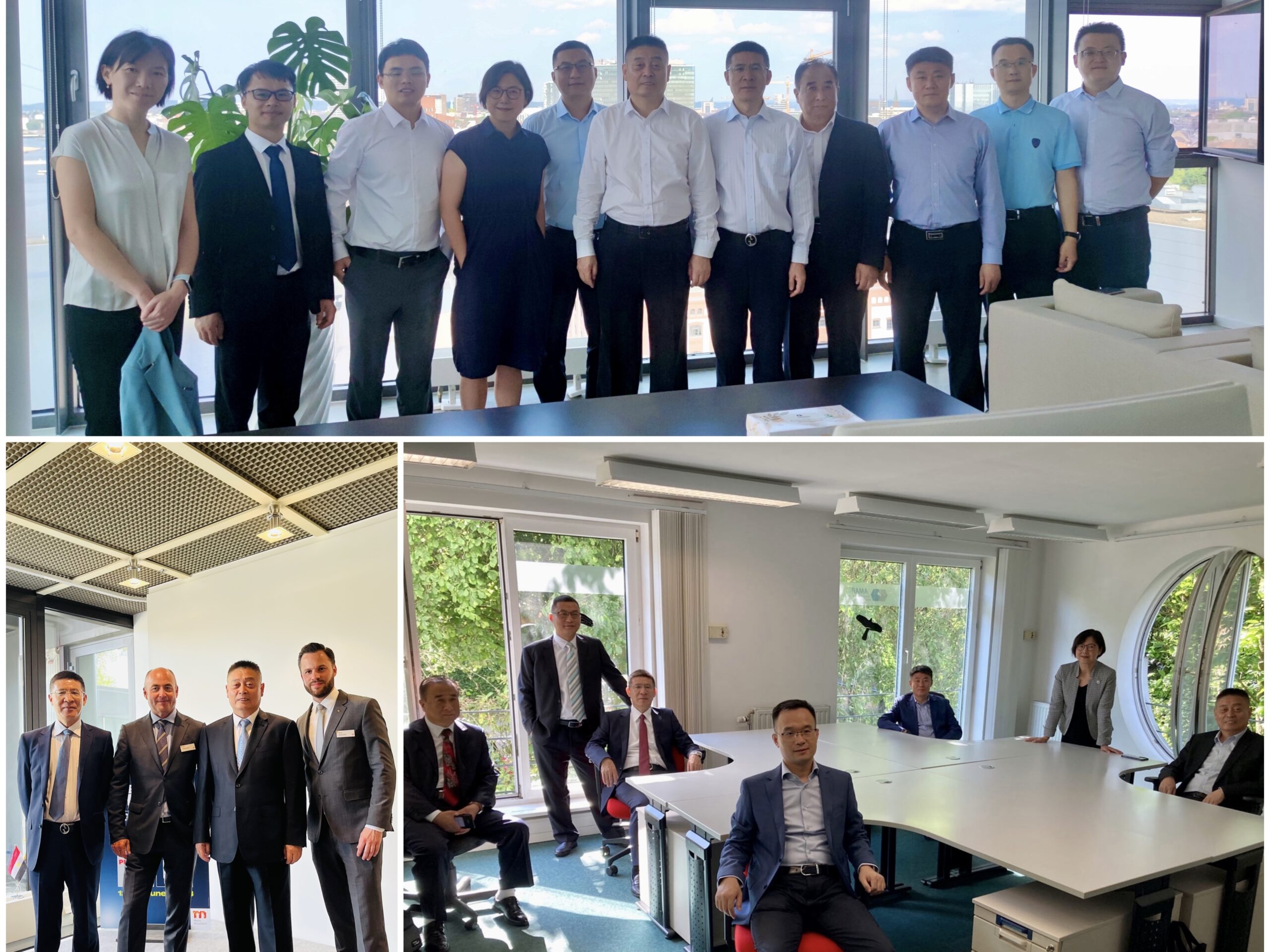 Del­eg­a­tion from Weiqiao Light­weight Base vis­ited Germany
Düs­sel­dorf, 28.06.2023
From 10 to 16 June, Qian­fang Zhao, Deputy Head of Shan­dong Hongqiao New Mater­i­als Co., Ltd., and Prof. Dr. Hai Zhang (Suzhou Uni­ver­sity), Head of Weiqiao (Suzhou) Light­weight Research Cen­ter, led a del­eg­a­tion of Weiqiao Light­weight Base to Germany for an exchange.
Net­work­ing with lead­ing com­pan­ies and pro­mot­ing glob­al collaboration
From 12 to 13 June, the del­eg­a­tion first vis­ited the largest inter­na­tion­al foundry exhib­i­tion GIFA2023 in Düs­sel­dorf. The del­eg­a­tion was warmly wel­comed by the organ­iser, Messe Düs­sel­dorf GmbH. At the wel­com­ing cere­mony, Qian­fang Zhao said that Weiqiao was look­ing for­ward to an intens­ive exchange with out­stand­ing enter­prises from all over the world and strength­en­ing cooper­a­tion. In the exclus­ive inter­view, Prof. Hai Zhang intro­duced the innov­a­tions and devel­op­ments of Weiqiao Group and stressed to con­tin­ue the path of sus­tain­able devel­op­ment. At the fair, the del­eg­a­tion met with lead­ing enter­prises such as Raff­met­al, Emir­ates Glob­al Alu­mini­um, Norsk Hydro, Gauts­chi and the Ger­man Foundry Association.
Pro­mot­ing industry-aca­demia-research cooper­a­tion to solve indus­tri­al problems
The del­eg­a­tion then vis­ited the Advanced Metals and Pro­cesses research cluster at RWTH Aachen Uni­ver­sity (AMAP). At the meet­ing with AMAP core mem­bers, Pro­fess­or Hai Zhang said that he would be very happy to cooper­ate with uni­ver­sit­ies and research insti­tu­tions in R&D and tal­ent train­ing in the future, as well as to jointly pro­mote the integ­ra­tion of industry, edu­ca­tion and research intens­ively. After­wards, Prof. Dr. Hai Zhang and Prof. Dr.-Ing. Ger­hard Hirt, Head of the Insti­tute of Image Form­ing at RWTH Aachen Uni­ver­sity (IBF), signed a "Memor­andum of Under­stand­ing on Cooper­a­tion". The Weiqiao (Suzhou) Light­weight Research Cen­ter also held an on-site job fair in Aachen to attract glob­al tal­ent in the field of high-per­form­ance met­al materials.
Exchange on devel­op­ments in cut­ting-edge technologies
The Foundry Insti­tute (GI) and the Insti­tute for Metal­lur­gic­al Pro­cess Tech­no­logy and Met­al Recyc­ling of RWTH Aachen Uni­ver­sity (IME) as well as the Insti­tute for Weld­ing and Join­ing Tech­no­logy (ISF) were also on the pro­gramme in Aachen, while the Fraunhofer Insti­tute for Man­u­fac­tur­ing Engin­eer­ing and Auto­ma­tion (IPA) and the Baden-Württem­berg Eco­nom­ic Devel­op­ment Cor­por­a­tion (BWi) were in Stut­tgart. The focus was on exchan­ging exper­i­ences on tech­no­lo­gic­al innov­a­tion strategies in the auto­mot­ive sec­tor and sus­tain­able devel­op­ment solu­tions, as well as under­stand­ing the eco­nom­ic envir­on­ment in Baden-Württemberg.
About WEIQIAO Germany GmbH:
WEIQIAO Germany GmbH is a European sub­si­di­ary and European headquar­ters of the Chinese Shan­dong Weiqiao Pion­eer­ing Group. The group includes three lis­ted com­pan­ies, two of which are lis­ted in Hong Kong, 12 domest­ic and over­seas pro­duc­tion sites and over 100,000 employ­ees world­wide. The group cov­ers the com­plete value chain of the tex­tile and alu­min­um industry.