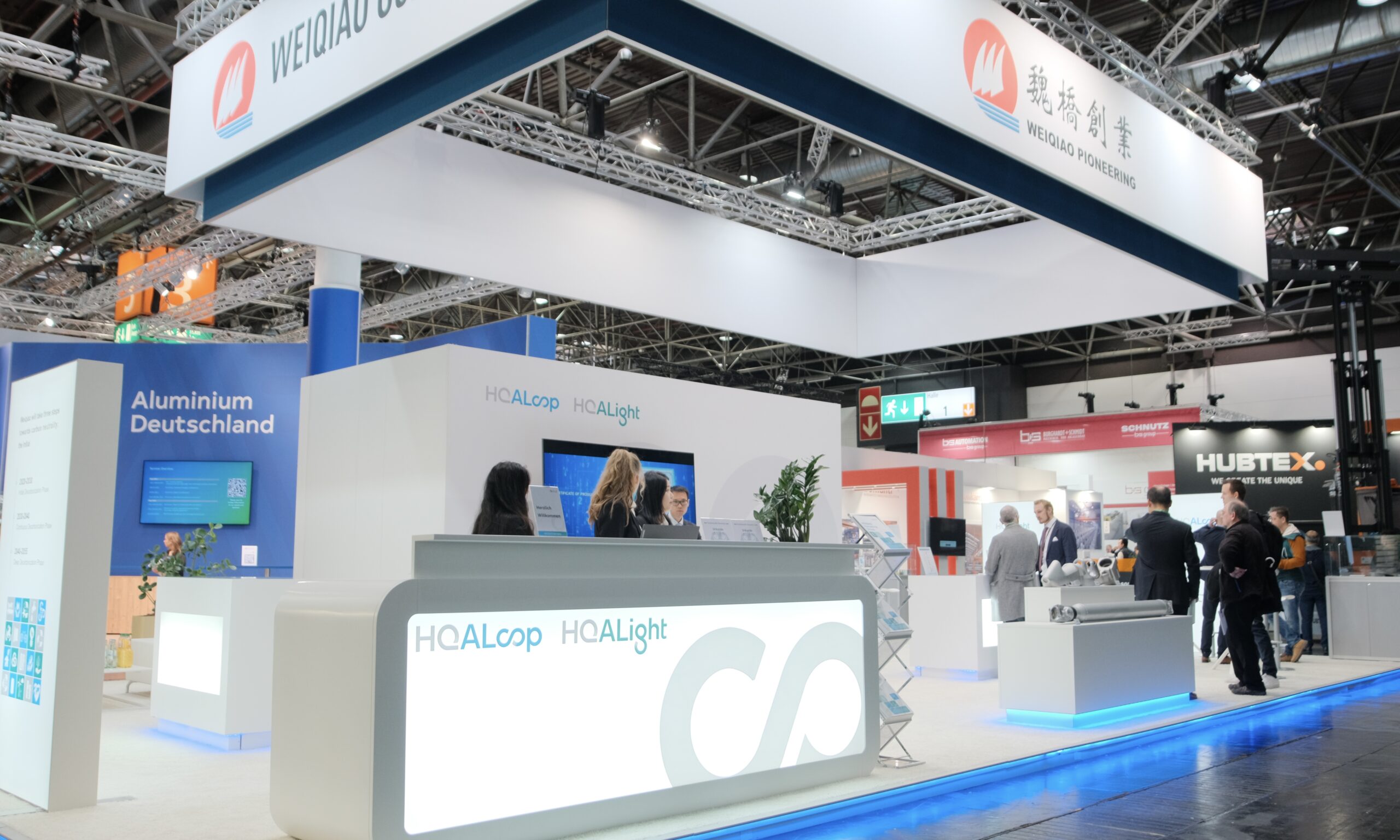 Suc­cess­ful Par­ti­cip­a­tion in ALUMINIUM — World Trade Fair and Con­fer­ence 2022
Düs­sel­dorf, 11.10.2022
From Septem­ber 27 to 29, the world's largest alu­min­um industry event, ALUMINIUM 2022, was held at the Düs­sel­dorf Exhib­i­tion and Con­gress Cen­ter. Weiqiao Pion­eer­ing Group brought its advant­age­ous light­weight con­struc­tion tech­no­lo­gies, products, green low-car­bon alu­min­um and recycled alu­min­um brands, HQ ALight and HQ ALoop, to the exhib­i­tion and received great atten­tion. Con­sul Gen­er­al DU Chun­guo from the Chinese Con­su­late in Düs­sel­dorf, Dr. Seeli­ger, Head of the Baden-Württem­berg State Author­ity for Light­weight Con­struc­tion, as well as import­ant guests and part­ners from Alu­mini­um Deutsch­land e.V., Fraunhofer Insti­tute, RWTH Aachen Uni­ver­sity, Ger­man Aerospace Cen­ter, CFEID e.V., Eco­nom­ic Devel­op­ment of the City of Düs­sel­dorf, the organ­iser of Alu­mini­um 2022 Reed Exhib­i­tions and oth­er organ­iz­a­tions vis­ited the Weiqiao booth dur­ing the fair. Owen Chen, Dir­ect­or of Research and Devel­op­ment, Invest­ment as well as the Over­seas Busi­ness Divi­sion of Weiqiao Pion­eer­ing Group, was inter­viewed by Reed Exhib­i­tions and intro­duced Weiqiao Group's sus­tain­able devel­op­ment path in terms of envir­on­ment­al pro­tec­tion and low CO2 emis­sions, as well as its import­ant ini­ti­at­ives to achieve its "dual car­bon" goal.
As the European headquar­ters of a Chinese private enter­prise in Germany, WEIQIAO Germany GmbH act­ively par­ti­cip­ates in the devel­op­ment of loc­al eco­nomy and cul­ture in North Rhine-West­phalia and Germany. Fur­ther­more, it main­tains good cooper­a­tion with the loc­al gov­ern­ment, research insti­tutes and enter­prises, pays atten­tion to its cor­por­ate social respons­ib­il­ity and strives to make a great­er con­tri­bu­tion to trade and cul­tur­al exchanges between China and Germany.
In the future, Weiqiao Group will con­tin­ue to focus on envir­on­ment­al and green needs and launch more low-car­bon products to achieve the goals of the energy sav­ings and emis­sion reduc­tions and con­trib­ute to a bet­ter and health­i­er life for all. We will estab­lish closer cooper­a­tion with inter­na­tion­al part­ners to jointly pro­mote respons­ible alu­min­um pro­duc­tion, accel­er­ate the pace of sus­tain­able devel­op­ment, and gath­er more strength to achieve green devel­op­ment and jointly com­bat cli­mate change.
About WEIQIAO Germany GmbH:
WEIQIAO Germany GmbH is a European sub­si­di­ary and European headquar­ters of the Chinese Shan­dong Weiqiao Pion­eer­ing Group. The group includes three lis­ted com­pan­ies, two of which are lis­ted in Hong Kong, 12 domest­ic and over­seas pro­duc­tion sites and over 100,000 employ­ees world­wide. The group cov­ers the com­plete value chain of the tex­tile and alu­min­um industry.