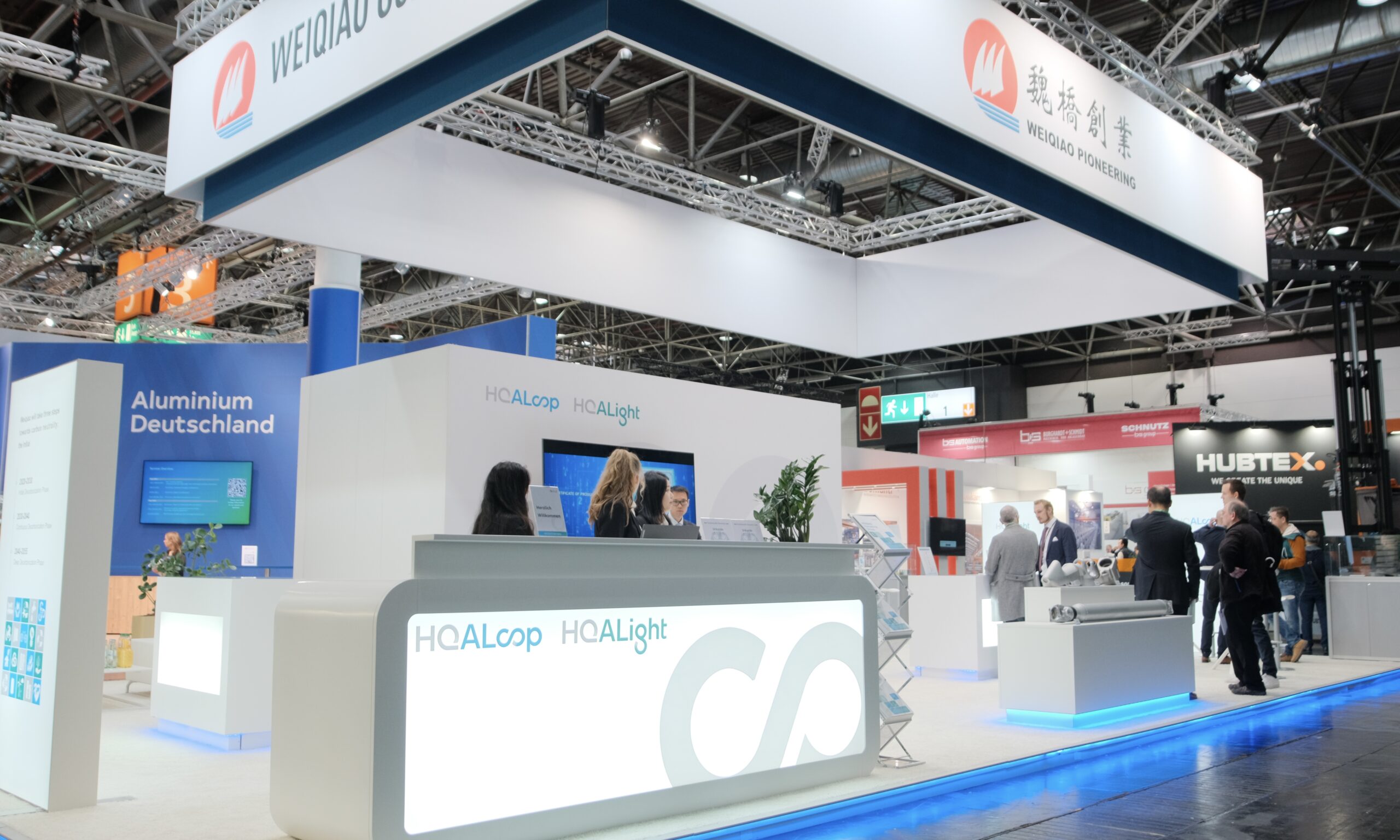 Successful Participation in ALUMINIUM – World Trade Fair and Conference 2022
Düsseldorf, 11.10.2022
From September 27 to 29, the world's largest aluminum industry event, ALUMINIUM 2022, was held at the Düsseldorf Exhibition and Congress Center. Weiqiao Pioneering Group brought its advantageous lightweight construction technologies, products, green low-carbon aluminum and recycled aluminum brands, HQ ALight and HQ ALoop, to the exhibition and received great attention. Consul General DU Chunguo from the Chinese Consulate in Düsseldorf, Dr. Seeliger, Head of the Baden-Württemberg State Authority for Lightweight Construction, as well as important guests and partners from Aluminium Deutschland e.V., Fraunhofer Institute, RWTH Aachen University, German Aerospace Center, CFEID e.V., Economic Development of the City of Düsseldorf, the organiser of Aluminium 2022 Reed Exhibitions and other organizations visited the Weiqiao booth during the fair. Owen Chen, Director of Research and Development, Investment as well as the Overseas Business Division of Weiqiao Pioneering Group, was interviewed by Reed Exhibitions and introduced Weiqiao Group's sustainable development path in terms of environmental protection and low CO2 emissions, as well as its important initiatives to achieve its "dual carbon" goal.
As the European headquarters of a Chinese private enterprise in Germany, WEIQIAO Germany GmbH actively participates in the development of local economy and culture in North Rhine-Westphalia and Germany. Furthermore, it maintains good cooperation with the local government, research institutes and enterprises, pays attention to its corporate social responsibility and strives to make a greater contribution to trade and cultural exchanges between China and Germany.
In the future, Weiqiao Group will continue to focus on environmental and green needs and launch more low-carbon products to achieve the goals of the energy savings and emission reductions and contribute to a better and healthier life for all. We will establish closer cooperation with international partners to jointly promote responsible aluminum production, accelerate the pace of sustainable development, and gather more strength to achieve green development and jointly combat climate change.
About WEIQIAO Germany GmbH:
WEIQIAO Germany GmbH is a European subsidiary and European headquarters of the Chinese Shandong Weiqiao Pioneering Group. The group includes three listed companies, two of which are listed in Hong Kong, 12 domestic and overseas production sites and over 100,000 employees worldwide. The group covers the complete value chain of the textile and aluminum industry.