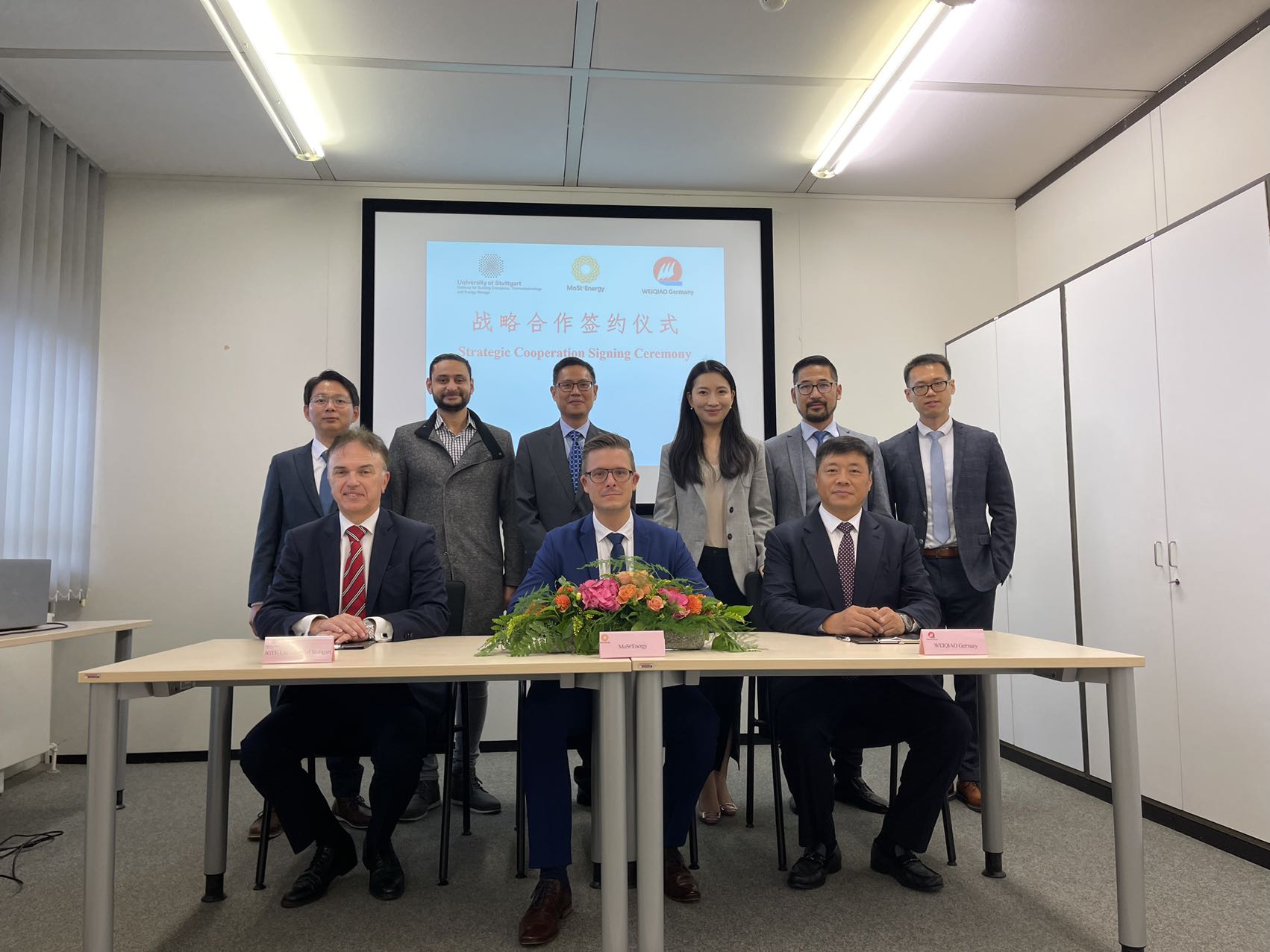 Cooper­a­tion in the Field of Renew­able Energy Storage
Düs­sel­dorf, 31.10.2022
On the 19th Octo­ber, Bo Zhang, Chair­man of the Weiqiao Pion­eer­ing Group, vis­ited the Ger­man Aerospace Cen­ter in Stut­tgart. There he dis­cussed the cooper­a­tion in the field of renew­able energy stor­age with Prof. Dr. Thess, Head of the Insti­tute for Build­ing Ener­get­ics, Ther­mo­tech­no­logy and Energy Stor­age at the Uni­ver­sity of Stut­tgart, as well as Dr. Peng, CEO of Most2Energy, and signed a memor­andum of stra­tegic cooper­a­tion. Mr. Zhang poin­ted out that China is the world lead­er in the devel­op­ment and use of renew­able energy and that there is there­fore a huge demand for energy stor­age. Weiqiao Group is strongly focus­ing on its dual-car­bon strategy and new energy plans by expand­ing its energy stor­age busi­ness and by cre­at­ing demon­stra­tion pro­jects. The cooper­a­tion between the three part­ners from China and Germany will lead to com­ple­ment­ary advant­ages in resources, tech­no­logy and mar­kets, pro­mote the devel­op­ment of China's energy stor­age mar­ket and sup­port the Weiqiao Group in its eco-friendly and high-qual­ity development.
About WEIQIAO Germany GmbH:
WEIQIAO Germany GmbH is a European sub­si­di­ary and European headquar­ters of the Chinese Shan­dong Weiqiao Pion­eer­ing Group. The group includes three lis­ted com­pan­ies, two of which are lis­ted in Hong Kong, 12 domest­ic and over­seas pro­duc­tion sites and over 100,000 employ­ees world­wide. The group cov­ers the com­plete value chain of the tex­tile and alu­min­um industry.