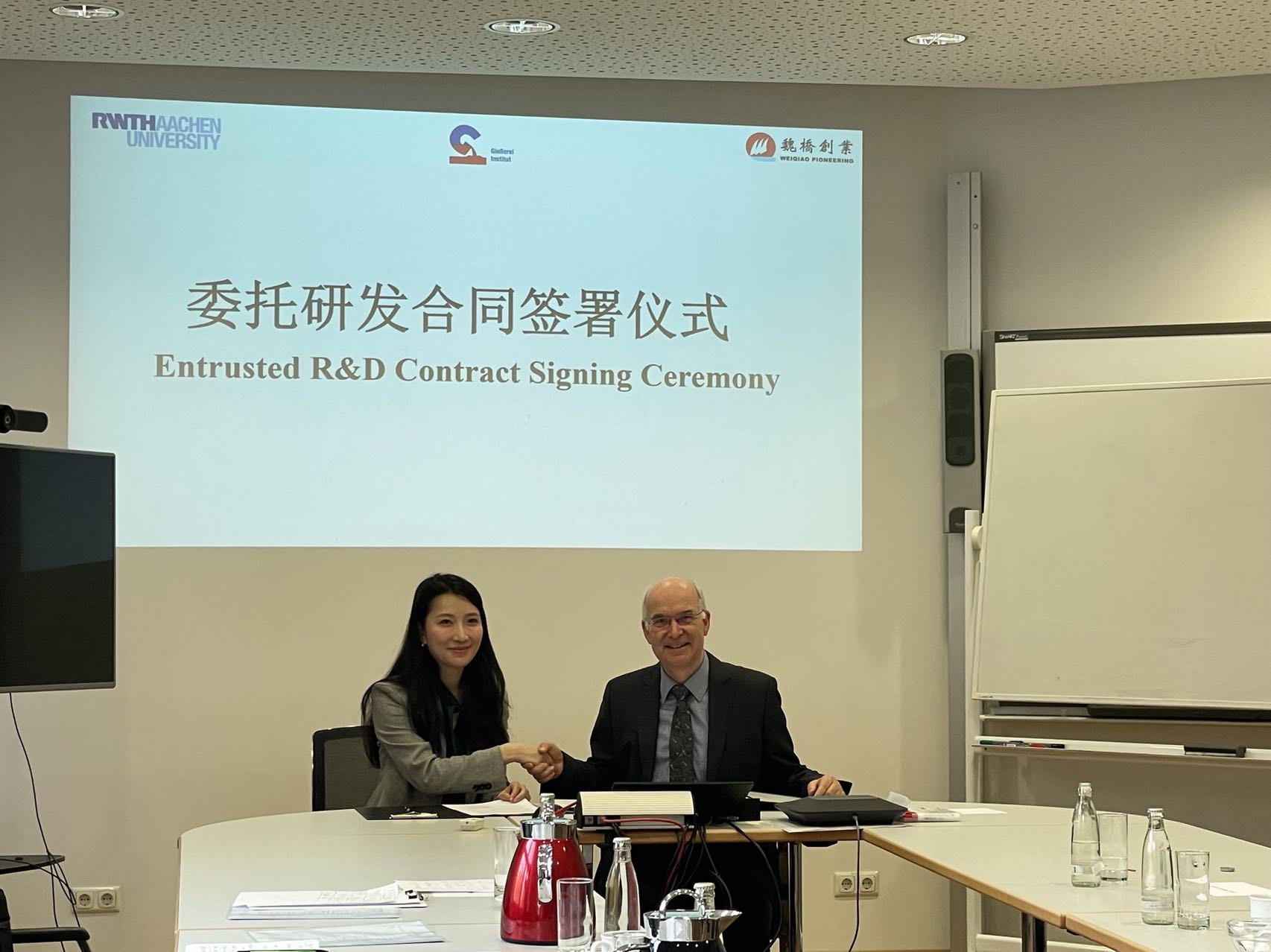 Sign­ing Cere­mony with Foundry Insti­tute of RWTH Aachen
Düs­sel­dorf, 11.11.2022
On Octo­ber 25, WEIQIAO Germany GmbH held the sign­ing cere­mony with the Foundry Insti­tute of RWTH Aachen. Dr. Wang, Gen­er­al Man­ager of WEIQIAO Germany GmbH, and Univ. Prof. Dr.-Ing. A. Bührig-Polaczek, Chair for Foundry Sci­ence and Foundry Insti­tute, signed a con­tract to com­mis­sion a research and devel­op­ment pro­ject on high thermal con­duct­iv­ity alu­min­um alloys.
Dr. Wang said that this sign­ing is the first sub­stan­tial sci­entif­ic pro­ject cooper­a­tion between Weiqiao Pion­eer­ing Group and RWTH Aachen Uni­ver­sity, and the first com­mis­sioned R&D pro­ject launched by WEIQIAO European Tech­no­logy Innov­a­tion Cen­ter since its estab­lish­ment in April this year. This marks the begin­ning of a long-term friendly cooper­a­tion between the two parties. Dr. Wang also intro­duced the Group's stra­tegic plan for its dual car­bon goals and energy struc­ture optim­iz­a­tion meas­ure, as well as Weiqiao's suc­cess­ful ini­ti­at­ives to link sci­ence and edu­ca­tion innov­a­tion with cor­por­ate devel­op­ment. She looks for­ward to con­tinu­ing to sup­port research and devel­op­ment as well as trans­form­a­tion and imple­ment­a­tion of import­ant sci­entif­ic pro­jects through col­lab­or­a­tion with uni­ver­sit­ies and research insti­tu­tions at home and abroad to provide bene­fits for all parties.
Prof. Dr. Bührig-Polaczek con­grat­u­lated the bilat­er­al cooper­a­tion and appre­ci­ated the glob­al ori­ent­a­tion and social respons­ib­il­ity sense of Weiqiao Pion­eer­ing Group. He hopes that the pro­ject will achieve prac­tic­al res­ults soon.
About WEIQIAO Germany GmbH:
WEIQIAO Germany GmbH is a European sub­si­di­ary and European headquar­ters of the Chinese Shan­dong Weiqiao Pion­eer­ing Group. The group includes three lis­ted com­pan­ies, two of which are lis­ted in Hong Kong, 12 domest­ic and over­seas pro­duc­tion sites and over 100,000 employ­ees world­wide. The group cov­ers the com­plete value chain of the tex­tile and alu­min­um industry.