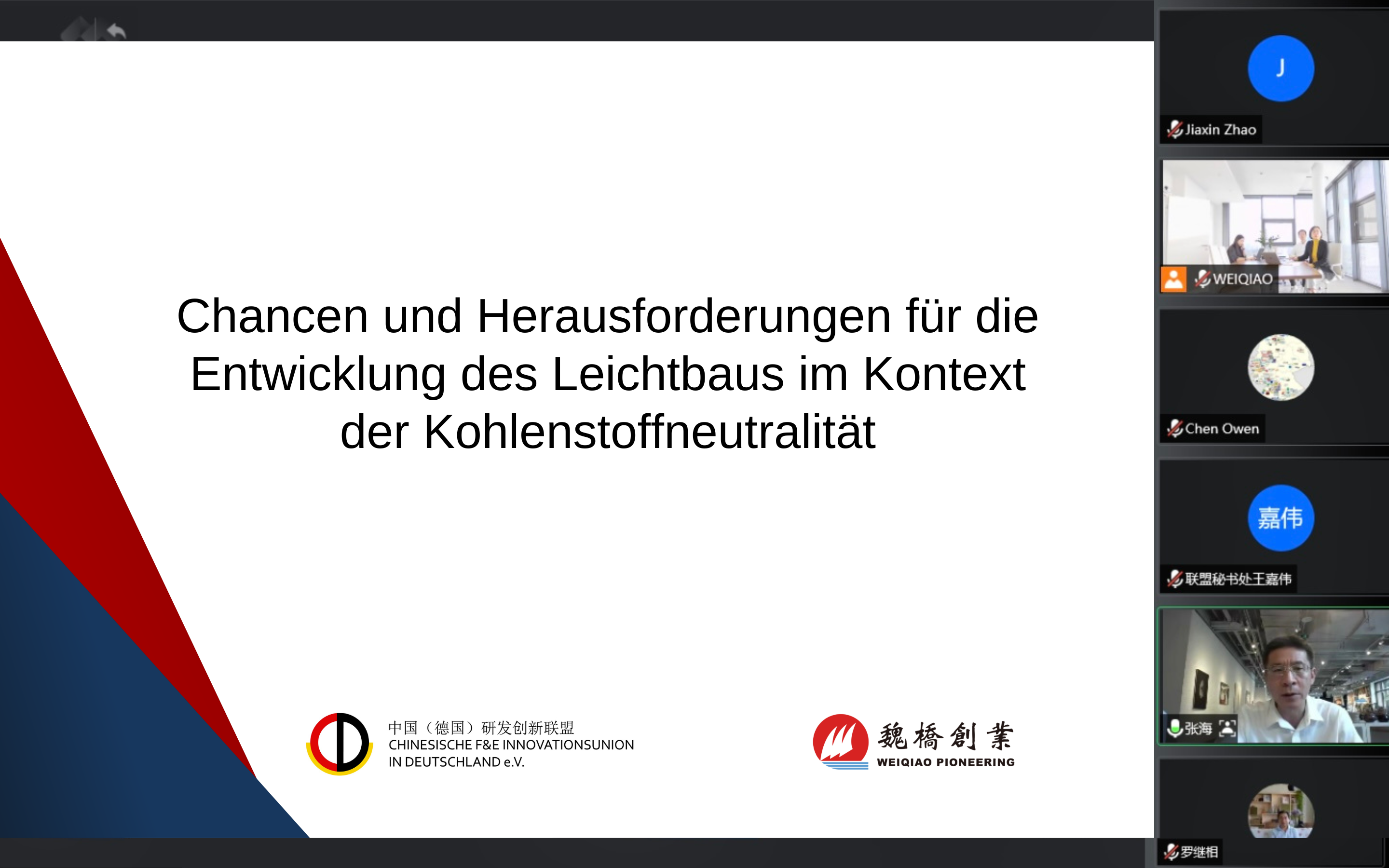 Suc­cess­ful Online Con­fer­ence with CFEID
Düs­sel­dorf, 23.11.2022
On Novem­ber 15, WEIQIAO Germany GmbH and CFEID suc­cess­fully held a spe­cial con­fer­ence on "Oppor­tun­it­ies and Chal­lenges for the Devel­op­ment of Light­weight Con­struc­tion in the Con­text of Car­bon Neut­ral­ity". There were nearly 50 experts, sci­ent­ists and com­pany rep­res­ent­at­ives atten­ded the online conference.
Dr. Wang Yan, Vice Pres­id­ent of Weiqiao Group, intro­duced Weiqiao Group's stra­tegic goals and action plans. Pres­id­ent of CFEID Prof. Dr. ‑Ing. Xian­zhang Lei briefly intro­duced the light­weight­ing spe­cial com­mit­tee of CFEID andhoped that it can con­tin­ue to play the import­ant role for Sino-Ger­man cooper­a­tion in the field of light­weight in the future. Envoy-Coun­selor Lin­hao Chen from the Depart­ment of Sci­ence and Tech­no­logy of the Chinese Embassy delivered the speech and he poin­ted out that light­weight tech­no­logy is nowadays the import­ant way to achieve car­bon neut­ral­ity in the man­u­fac­tur­ing industry, espe­cially in the auto­mot­ive industry. He then gave an over­view of the cooper­a­tion between the two coun­tries in the field of light­weight engin­eer­ing in recent years and expressed con­fid­ence in the cooper­a­tion between Weiqiao Group and CFEID.
At the begin­ning of the part of expert present­a­tions, star­ted Owen Chen, R&D Dir­ect­or of Weiqiao Over­seas on the top­ic of Weiqiao's dual coal goals. Prof. Hai Zhang, Dis­tin­guished Pro­fess­or at Soochow Uni­ver­sity and Tech­nic­al Dir­ect­or of Weiqiao light­weight­ing base, then gave a lec­ture titled "Weiqiao light­weight­ing devel­op­ment over­all plan­ning and new mater­i­al tech­no­logy". He intro­duced the light­weight­ing base and alu­min­um indus­tri­al chain of Weiqiao Group, poin­ted out the import­ance of auto­mot­ive light­weight­ing in the con­text of envir­on­ment­al and energy crisis. Then, Prof. Jixi­ang Luo, pro­fess­or at Wuhan Uni­ver­sity of Tech­no­logy and exec­ut­ive dir­ect­or of Nation­al Die Cast­ing Soci­ety, Jiam­in Su, founder of Suzhou Aojie Auto­mot­ive Tech­no­logy Co., Ltd. and chair­man of Shan­dong Hong Ao Co., Ltd. and Dr. Zhenbo He, the founder and gen­er­al man­ager of Hangqiao New Mater­i­al Tech­no­logy (Bin­zhou) Co., Ltd, made great present­a­tions for all online participants.
Dur­ing the Q&A ses­sion at the end of the con­fer­ence, experts and sci­ent­ists exchanged opin­ions with the par­ti­cipants about their achieve­ments and exper­i­ences in the field of light­weight technology.
About WEIQIAO Germany GmbH:
WEIQIAO Germany GmbH is a European sub­si­di­ary and European headquar­ters of the Chinese Shan­dong Weiqiao Pion­eer­ing Group. The group includes three lis­ted com­pan­ies, two of which are lis­ted in Hong Kong, 12 domest­ic and over­seas pro­duc­tion sites and over 100,000 employ­ees world­wide. The group cov­ers the com­plete value chain of the tex­tile and alu­min­um industry.