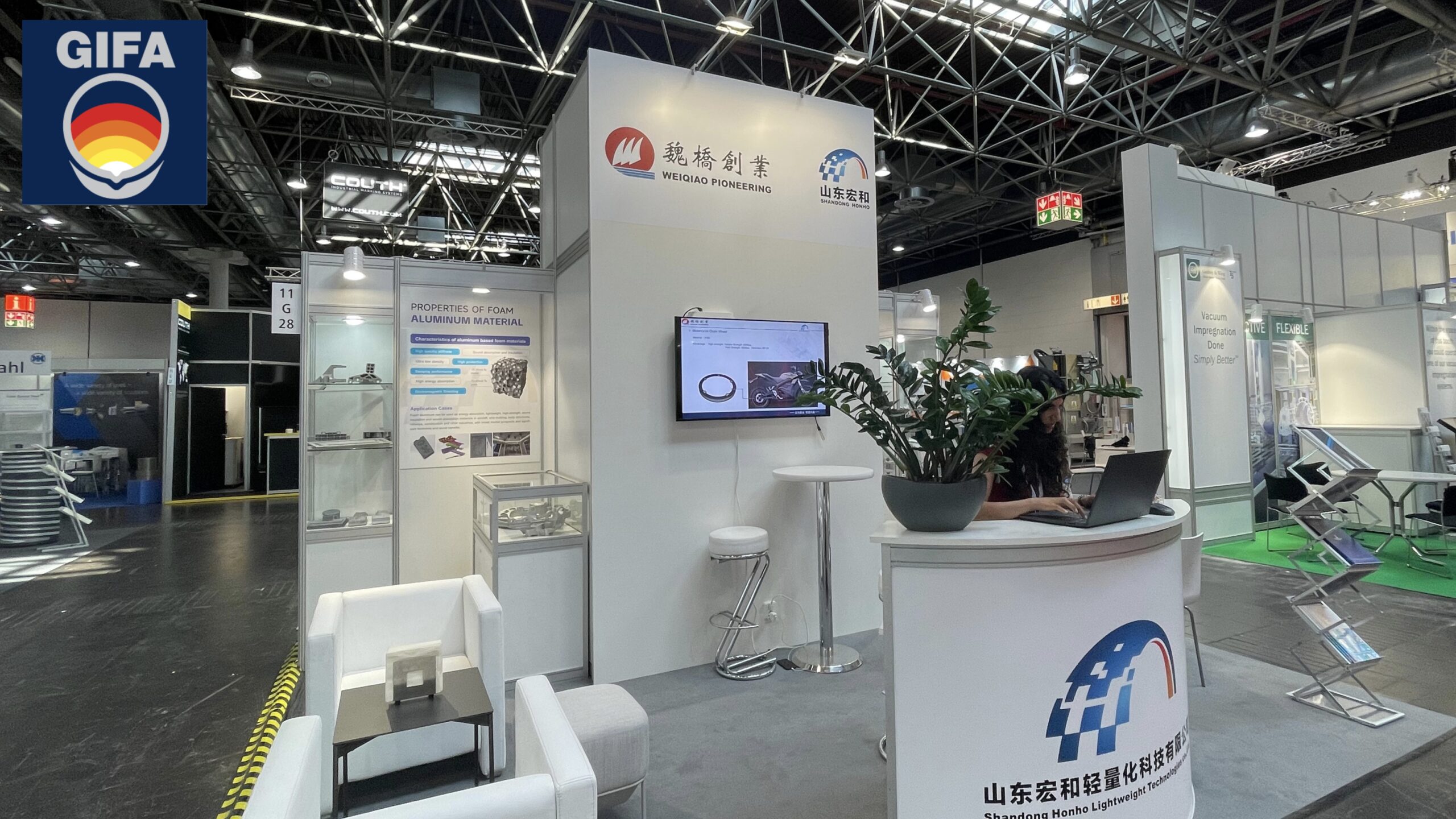 Suc­cess­ful Par­ti­cip­a­tion in GIFA2023
Düs­sel­dorf, 20.06.2023
GIFA 2023, the world's most import­ant trade fair for the foundry sec­tor, took place in Düs­sel­dorf from 12 to 16 June. Cov­er­ing a total area of around 67,000 square metres, GIFA togeth­er with the METEC, THERMPROCESS and NEWCAST trade fairs, brought togeth­er a total of 63,300 vis­it­ors from 114 coun­tries and around 2,200 industry exhib­it­ors from 56 coun­tries, 76 % of whom came from abroad. This year, the show focused on key top­ics such as sus­tain­ab­il­ity, digit­al­isa­tion, cir­cu­lar eco­nomy and new pro­duc­tion tech­no­lo­gies, and show­cased the world's most advanced foundry equip­ment, meas­ur­ing devices, and high-qual­ity cast­ings and foundry mater­i­als from the cast­ing, foundry, metal­lurgy and heat treat­ment sec­tors respect­ively.

Weiqiao Pion­eer­ing Group (Weiqiao) suc­cess­fully par­ti­cip­ated in the fair with its sub­si­di­ary Shan­dong Honho Light­weight Tech­no­lo­gies Co, Ltd. As an import­ant part of Weiqiao's light­weight base, Hongho has intel­li­gent pro­duc­tion lines, com­pre­hens­ive new mater­i­al devel­op­ment cap­ab­il­it­ies, pro­fes­sion­al product and pro­cess devel­op­ment, and exper­i­enced design and mould devel­op­ment cap­ab­il­it­ies. The products are widely used in aerospace, auto­mot­ive, ship­build­ing, con­struc­tion, etc. Dur­ing the exhib­i­tion, Hongho attrac­ted many vis­it­ors and industry pro­fes­sion­als who were inter­ested in the company's latest trends and solu­tions in light­weight tech­no­logy with its extru­sion pro­cess and com­pet­it­ive products such as light­weight struc­tur­al parts for auto­mo­biles and alu­mini­um foam. Hongho's efforts in con­nec­tion with the cur­rent glob­al energy trans­ition were also a top­ic of dis­cus­sion.

The Group was able to use the fair to expand exchanges and inter­na­tion­al cooper­a­tion with lead­ing com­pan­ies in the foundry industry and fur­ther devel­op the mar­ket for the Weiqiao Group's alu­mini­um pro­duc­tion chain. The fair helped to pro­mote the con­ver­sion of energy-intens­ive indus­tries, the will for sus­tain­able devel­op­ment and innov­a­tions for man­u­fac­tur­ing pro­cesses.
About WEIQIAO Germany GmbH:
WEIQIAO Germany GmbH is a European sub­si­di­ary and European headquar­ters of the Chinese Shan­dong Weiqiao Pion­eer­ing Group. The group includes three lis­ted com­pan­ies, two of which are lis­ted in Hong Kong, 12 domest­ic and over­seas pro­duc­tion sites and over 100,000 employ­ees world­wide. The group cov­ers the com­plete value chain of the tex­tile and alu­min­um industry.