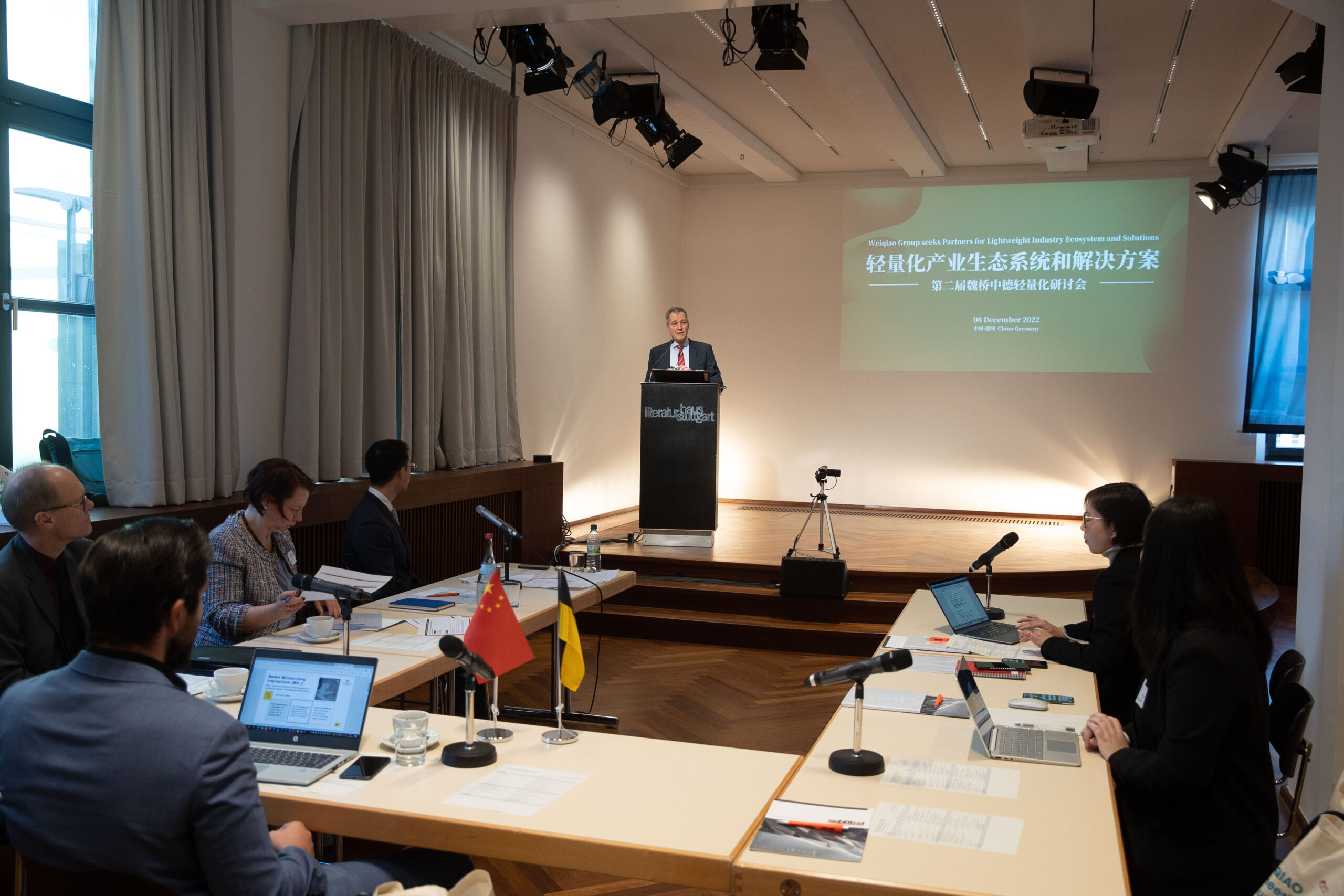 The second Weiqiao Lightweight Workshop with Leichtbau BW
Düsseldorf, 14.12.2022
On 08.12.2022 in Stuttgart, WEIQIAO Germany GmbH successfully hold the second global Weiqiao Lightweight Workshop with Leichtbau BW together this year around the topic of Lightweight Industry Ecosystem and Solutions.
In the first part, Dr. Yan Wang, Vice President of Weiqiao Group, introduced the participants and Prof. Peng Gao, President of WQ & UCAS Research Academy gave an opening speech. Prof. Hai Zhang and Liuchao Yan introduced separately the Weiqiao Lightweight Industrial Ecosystem and the planning of Weiqiao Institute of Advanced Technology. As a representative of the R&D department from WEIQIAO Germany GmbH, Mr. Cheng presented the Weiqiao Technology and Innovation Centre in Aachen. The second part for matchmaking started with the presentation of Dr. Ivica Kolaric from Fraunhofer IPA. He introduced the IPA institutes and the application of nano-reinforced aluminum alloys in lightweight construction (Matrixproduction and Energyeffiency). Ms. Schübel from Schübel Primeparts GmbH presented the AddCasting technology in the field of aluminum cutting/casting and Mr. Brock from cirp GmbH presented the aluminum 3D printing technology. Dr. Stuart Wiesner of Aluminium Rheinfelden Alloys GmbH gave his presentation on the topic of low carbon aluminum alloys for structural castings. At the end, Dr. Seeliger from Leichtbau BW moderated the Q&A session. He summarized the opinions shared by the group during networking and wished all partners further active cooperation in the field of lightweight construction.
About WEIQIAO Germany GmbH:
WEIQIAO Germany GmbH is a European subsidiary and European headquarters of the Chinese Shandong Weiqiao Pioneering Group. The group includes three listed companies, two of which are listed in Hong Kong, 12 domestic and overseas production sites and over 100,000 employees worldwide. The group covers the complete value chain of the textile and aluminum industry.