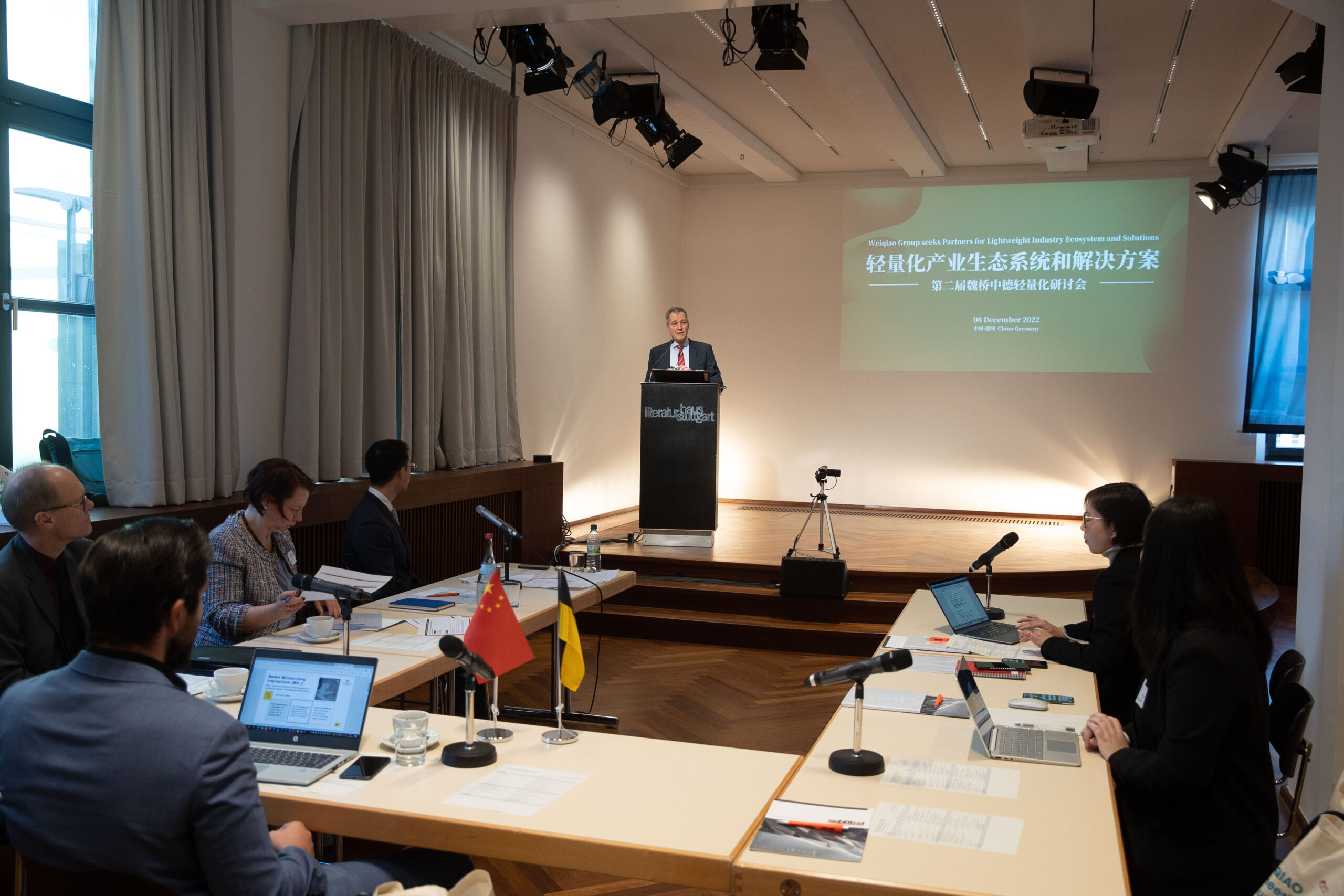 The second Weiqiao Light­weight Work­shop with Leicht­bau BW
Düs­sel­dorf, 14.12.2022
On 08.12.2022 in Stut­tgart, WEIQIAO Germany GmbH suc­cess­fully hold the second glob­al Weiqiao Light­weight Work­shop with Leicht­bau BW togeth­er this year around the top­ic of Light­weight Industry Eco­sys­tem and Solutions.
In the first part, Dr. Yan Wang, Vice Pres­id­ent of Weiqiao Group, intro­duced the par­ti­cipants and Prof. Peng Gao, Pres­id­ent of WQ & UCAS Research Academy gave an open­ing speech. Prof. Hai Zhang and Liuchao Yan intro­duced sep­ar­ately the Weiqiao Light­weight Indus­tri­al Eco­sys­tem and the plan­ning of Weiqiao Insti­tute of Advanced Tech­no­logy. As a rep­res­ent­at­ive of the R&D depart­ment from WEIQIAO Germany GmbH, Mr. Cheng presen­ted the Weiqiao Tech­no­logy and Innov­a­tion Centre in Aachen. The second part for match­mak­ing star­ted with the present­a­tion of Dr. Ivica Kolar­ic from Fraunhofer IPA. He intro­duced the IPA insti­tutes and the applic­a­tion of nano-rein­forced alu­min­um alloys in light­weight con­struc­tion (Mat­rix­pro­duc­tion and Energyef­fi­ency). Ms. Schü­bel from Schü­bel Primeparts GmbH presen­ted the AddCast­ing tech­no­logy in the field of alu­min­um cutting/casting and Mr. Brock from cirp GmbH presen­ted the alu­min­um 3D print­ing tech­no­logy. Dr. Stu­art Wies­ner of Alu­mini­um Rhein­felden Alloys GmbH gave his present­a­tion on the top­ic of low car­bon alu­min­um alloys for struc­tur­al cast­ings. At the end, Dr. Seeli­ger from Leicht­bau BW mod­er­ated the Q&A ses­sion. He sum­mar­ized the opin­ions shared by the group dur­ing net­work­ing and wished all part­ners fur­ther act­ive cooper­a­tion in the field of light­weight construction.
About WEIQIAO Germany GmbH:
WEIQIAO Germany GmbH is a European sub­si­di­ary and European headquar­ters of the Chinese Shan­dong Weiqiao Pion­eer­ing Group. The group includes three lis­ted com­pan­ies, two of which are lis­ted in Hong Kong, 12 domest­ic and over­seas pro­duc­tion sites and over 100,000 employ­ees world­wide. The group cov­ers the com­plete value chain of the tex­tile and alu­min­um industry.