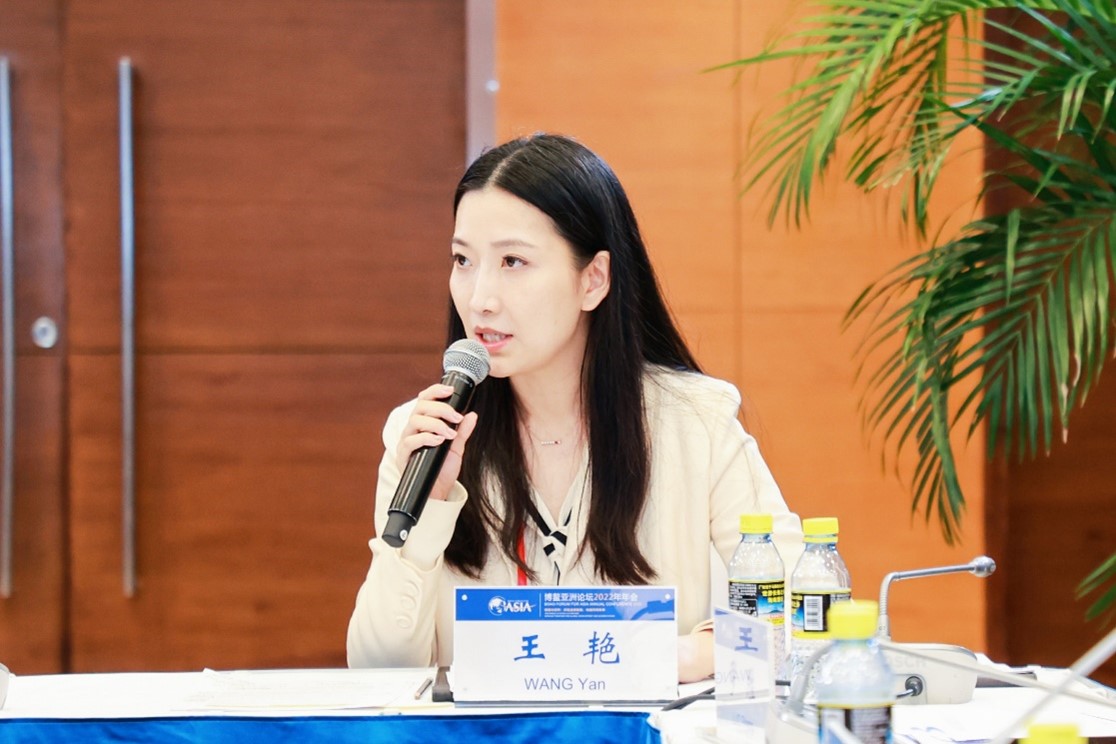 WEIQIAO Group atten­ded Boao For­um 2022
Düs­sel­dorf, 25.04.2022
From April 20th to 22nd, the annu­al meet­ing of Boao For­um for Asia 2022 was held in Boao, Hain­an. The theme of this year's meet­ing was "Pan­dem­ic and the world: Pro­mot­ing glob­al devel­op­ment and build­ing a com­mon future".
As one of the top 500 Chinese private enter­prises for ten con­sec­ut­ive years, the group was invited to par­ti­cip­ate in the con­fer­ence for two suc­cess­ive years. Dr. Yan Wang, Gen­er­al Man­ager of Over­seas Busi­ness Divi­sion and Gen­er­al Man­ager of WEIQIAO Germany GmbH, rep­res­en­ted the group in this annu­al meet­ing and shared the group's exper­i­ence in green tech­no­logy and innovation.
The theme of this event for private entre­pren­eurs was "Enhan­cing Green Com­pet­it­ive­ness and Achiev­ing Sus­tain­able Devel­op­ment". Dr. Yan Wang intro­duced the group's "Dual car­bon" strategy. It rep­res­ents Weiqiao's strategy for car­bon reduc­tion and long-term green development.
Weiqiao will imple­ment the "Dual car­bon" strategy through energy struc­ture adjust­ment, busi­ness mod­el innov­a­tion, relo­ca­tion of pro­duc­tion capa­city, improved pro­duc­tion pro­cesses, as well as sci­entif­ic and tech­no­lo­gic­al innov­a­tion. In terms of cre­at­ing a green sup­ply chain, Weiqiao has been able to achieve the "Dual car­bon" goal. It has played an act­ive role in lead­ing the industry to achieve low car­bon trans­form­a­tion through cooper­a­tion with gov­ern­ment agen­cies, industry asso­ci­ations, and research institutions.
Boao For­um For Asia (BFA) is a non-gov­ern­ment­al, non-profit inter­na­tion­al organ­iz­a­tion headquartered in China and co-sponsored by 29 mem­ber coun­tries. It was foun­ded in Feb­ru­ary 2001 in Boao Town, Qiong­hai City, Hain­an province, and holds reg­u­lar annu­al meet­ings. The forum's mis­sion is to gath­er know­ledge and pro­mote exchange for the devel­op­ment of Asia and the world. The for­um provides a high-level dia­logue plat­form for gov­ern­ments, enter­prises, experts, and schol­ars to dis­cuss eco­nom­ic, social, envir­on­ment­al, and oth­er related issues. The for­um is now expand­ing in scale and influ­ence, play­ing a unique role in build­ing con­sensus, deep­en­ing region­al cooper­a­tion, and pro­mot­ing com­mon devel­op­ment in Asia.
About WEIQIAO Germany GmbH:
WEIQIAO Germany GmbH is a European sub­si­di­ary and European headquar­ters of the Chinese Shan­dong Weiqiao Pion­eer­ing Group. The group includes three lis­ted com­pan­ies, two of which are lis­ted in Hong Kong, 12 domest­ic and over­seas pro­duc­tion sites and over 100,000 employ­ees world­wide. The group cov­ers the com­plete value chain of the tex­tile and alu­min­um industry.